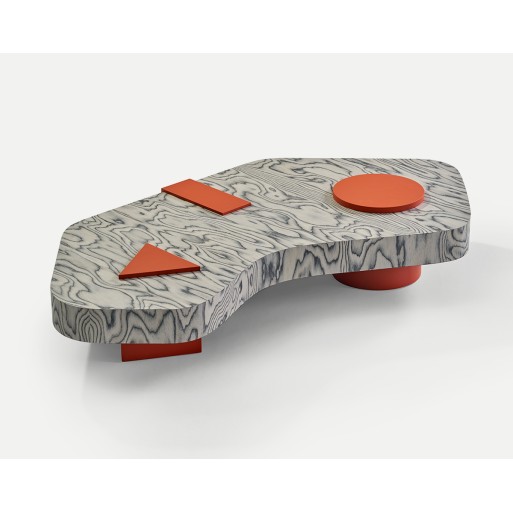  
Bold Coffee Table Sancal
WE ARE ON PROMOTION,
CONTACT US TO RECEIVE YOUR DISCOUNT!NOUS SOMMES EN PROMOTION,
CONTACTEZ NOUS POUR RECEVOIR VOTRE REMISE!ESTAMOS EN PROMOCION,
CONTACTE CON NOSTROS PARA RECIBIR EL DESCUENTO!
Sancal Bold coffee table available in 4 different versions. Discover our best price.
A sculptural piece that pays homage to the charismatic and casual Memphis style. Bold is a table with audacious shapes and XL dimensions designed by Studiopepe. The top is characterized by its oversized profile and irregular outline, while three basic geometries (rectangle, circle and triangle) emerge from it, creating a dynamic, visual game as each of them emerges at a different level. These elementary shapes are in fact the legs that appear on the surface, through which they pass. Despite its large dimensions, Bold connects the space to create fluid and elegant transitions. Exploring new combinations is a constant in Chiara and Arianna's work, so combining diverse materials is another of the hallmarks of this design. Undoubtedly a technical challenge for Sancal in which experimentation and industry meet once again.
Indicative delivery time:
6/8 business weeks.
Dimensions:
180x98xh32 cm
Discover also other living room furniture:
4 other products in the same category: