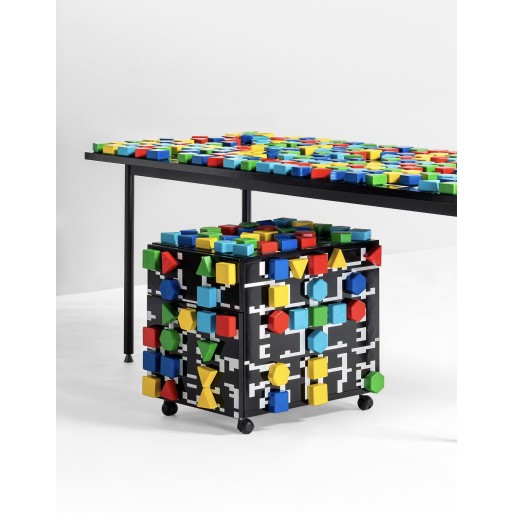  
Remix Vol. 6 Drawer Unit Barcelona Design
BD Remix Vol. 6 drawer unit inspired by video games. Discover our best price.
Taking work as a game is what Trini Salamanca and Pablo Párraga, members of Las Ánimas, have done to address this new edition of the REmix project, started by BD in 2016. After passing through the workshop of this couple of young Sevillian artists, the furniture has entered another dimension to become a work of art without losing its original functionality. The concept behind its interpretation has been to create an analog video game, a material geometric projection of an imaginary cyber world that the user can change at will. It is a unique series because there is only one copy. It is complemented by 570 small geometric pieces of wood of different colors, magnetized, also made by hand by the artists. With them you can make infinite combinations. It is part of the BD Art Editions catalogue.
Indicative delivery time:
6/8 business weeks.
Dimensions:
43x60xh53,3 cm
Materials and finishes:
Unique pieces. A black painted fibreboard with inserted magnets. White graphics in white. Geometric objects (three shapes) made of ash wood and an incorporated magnet in the following colours: yellow, cyan, blue, red and green. The final client can customise the geometric pieces to create his/her own composition.
Discover also other office furniture:
4 other products in the same category: