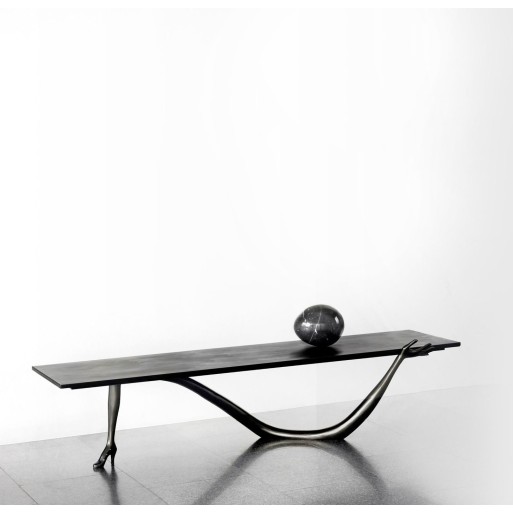  
Leda Sculpture-Table Limited Edition Barcelona Design
BD Leda Sculpture-Table Limited Edition available in black finish. Discover our best price.
In 2009 BD commemorated the 20th Anniversary of the death of Salvador Dali wishing to add its special homage by producing a special limited edition of his fantastic furniture collection. All the finishing's are based on black, with aged black patina on the casted brass, Black Marquina marble for the famous egg, darkened gold leaf and dyed lime wood satin in black for the upholstery and lingerie chiffon, also black for the lamp shades. Refined materials and handcrafted manufacturing to bring up to date a furniture collection that BD has sold exclusively all over the world since the 90s, guaranteed by The Gala-Salvador Dali. All pieces of ironwork in this collection are made of brass. The Black Label Leda Collection has an artisanal application of a special patina (metal dissolved in nitric acid) which is applied to a lightly heated surface accomplished with a gas blow torch. The reaction caused results in an irregular dark finish. 
Indicative delivery time:
6/8 business weeks.
Dimensions:
190x51xh61 cm
Discover also other living room furniture: 
4 other products in the same category: