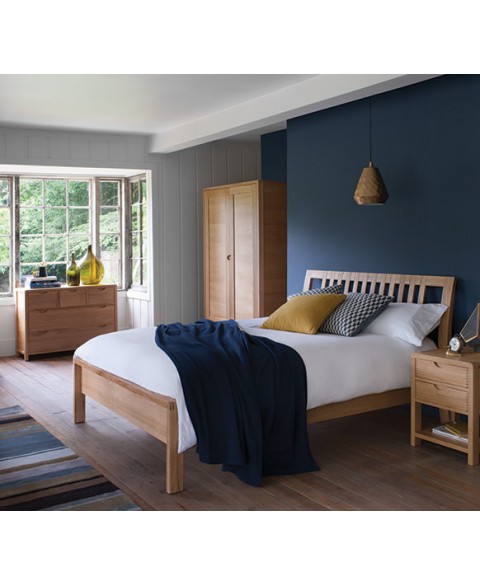  
Bosco Bedroom Bed Ercol available in 3 different sizes. Discover our best price.
The Bosco Bedroom bed Ercol, designed by Ercol Design Studio represents a collection of wooden beds suitable for the decoration of classic or rustic interiors. The Bosco bed is characterized by its beautiful and distinctive headboard with its distinctive feature jointing of the curved slats recessed into the headboard top-rail.  The foot of the bed has the signature Bosco curved finger joint detail. The Bosco Bedroom bed by Ercol is available in 3 different sizes in order to satisfy all user's tastes and needs. Not only do the Bosco double bed, kingsize and super kingsize models look great, but their presprung wooden slats will help give you a good night's sleep. The entire Bosco collection is finished in a clear matt lacquer to protect it whilst at the same time showing off the natural beauty of the oak.
The mattress is not included.
Indicative delivery time:
6/7 weeks.
Sizes:
149x211xh106 cm (for mattress 135x190 cm)
164x221xh106 cm (for mattress 150x200 cm)
194x221xh106 cm (for mattress 180x200 cm)
Discover also other bedroom furniture:
4 other products in the same category: