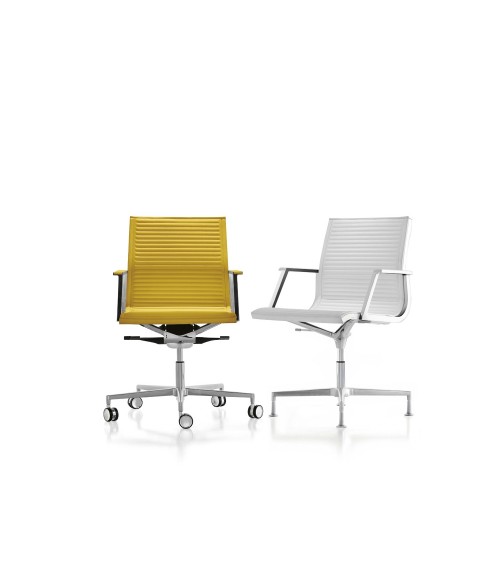  
Luxy Nulite Chair available in 12 different models. Discover our best price.
The Nulite chair is the most welcoming chair of Luxy because it condenses this spirit inside its very genesis: it comes to us as a "Light Venus", amenable and elegant, perfect for homes and offices. The frame, that is available in two backrest heights, high and medium, boasts numerous chromed aluminum components and is supported by 4 and 5 spoke bases or by the cantilever version. Three upholsteries are available : one comfortable with soft pad, the second in mesh and the third - flagship of the range - with ribbed cushion seamless thanks to the thermo-molding process. The force point of Luxy Nulite chair is ergonomics, the study of the body posture, the lightness of the line and its multifunctional structure. The skeleton of the chair is enhanced by a decentralized oscillating mechanism multiblock, with adjustable intensity through a side knob that is extracted with great simplicity from the side of the chair and which allows, inter alia, a more elegant gesture.
Indicative delivery time:
8 business weeks.
Dimensions:
66,5 x 64 x h85/98 cm
66,5 x 64 x h107/120 cm
60 x 60 x h85/98 cm
Discover also other office furniture:
4 other products in the same category: