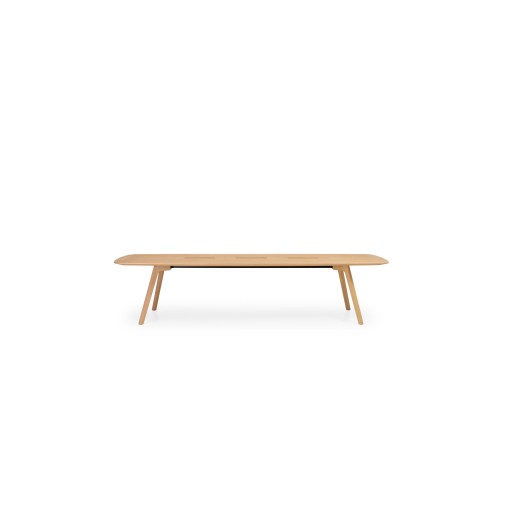  
True Design Wing table available in 5 different models. Discover our best price.
It is characterized by a wooden frame inspired by the sawhorse of the working tables, and the rounded shape of the top with its contemporary lines. Defined by great flexibility, Wing can be completed with acoustic panels, a brass reading lamp and wooden or metal trays that are installed on the large central channel through a magnetic fixing system. Power supply and cable management are allocated on the same central channel. The acoustic padded panels allow to reconfigure the work areas passing from macro sharing environments to micro environments for the focus of the individual, creating a mood favourable to the realization of ideas. Shapes and materials have been designed to convey a feeling of wellbeing that creates a relaxed and at the same time productive environment, allowing the individual to fully live the eco-system-work. Table top is available in oakwood or american walnut, in white full core HPL, decorated HPL, white laminated plywood. Table top installed on a steel beam fixed to solid wood legs, in oakwood, american walnut or beechwood.
Acessories are excluded.
Model WI450 consists of two dockable modules.
Indicative delivery time:
6/8 business weeks.
Dimensions:
220x110xh100 cm
240x120xh100 cm
300x140xh74 cm
320x120xh74 cm
450x140xh74 cm
Discover also other office furniture:
4 other products in the same category: