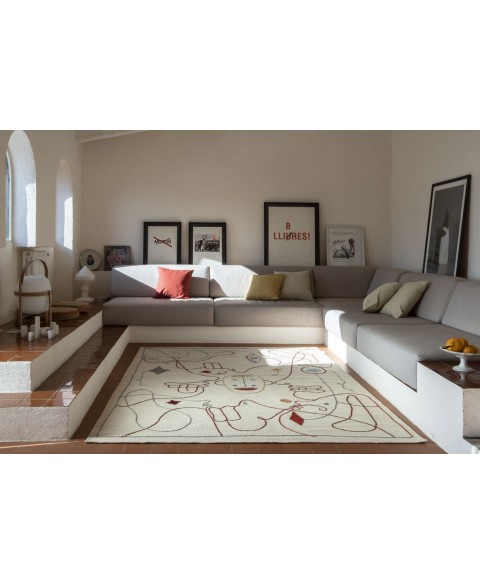  
Silhouette Rug Nanimarquina
WE ARE ON PROMOTION,
CONTACT US TO RECEIVE YOUR DISCOUNT!NOUS SOMMES EN PROMOTION,
CONTACTEZ NOUS POUR RECEVOIR VOTRE REMISE!ESTAMOS EN PROMOCION,
CONTACTE CON NOSTROS PARA RECIBIR EL DESCUENTO!
Nanimarquina Silhouette rug available in 4 different sizes. Discover our best price.
Nanimarquina Silhouette rug, designed by Jaime Hayon is a collection of rugs suitable for indoor and outdoor use that highlights the acclaimed casual style of the designer and artist. Depicted with a delicate stroke, the illustration defines the silhouettes of several imaginary characters that intertwine and coexist in a beautiful composition. Nine faces are distributed at different angles so that the rug can be viewed from any perspective, fitting perfectly in any space. Nanimarquina introduces the embroidery on kilim technique for the first time, a laborious process handmade in Pakistan where the chain stitch embroidery adds texture and a soft volume that emphasizes the sinuousness of the illustration. Despite its delicate appearance, it is a sturdy technique suitable for both residential and commercial use. Available in four different sizes, the indoor model also includes a tapestry piece that can be hung vertically. 
Indicative delivery time:
5/6 working weeks.
Sizes: 
120x150 cm
170x240 cm
200x300 cm
300x400 cm
Discover also other living room furniture:
4 other products in the same category: