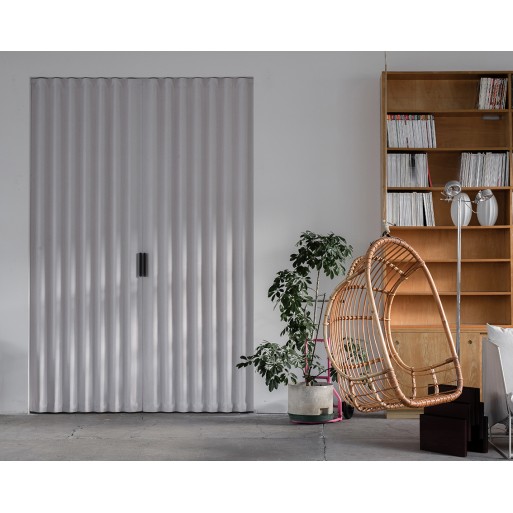  
Textile folding doors Dooor
Textile folding doors Dooor available in any shape, dimension and upholstery.
Opening system
Dooor folding doors feature opening systems designed to enhance spaces of various kinds. The door can have lateral opening, bilateral opening, centred central opening, decentred central opening, multiple opening.
Track
The aluminium track is the product of a technology in which steel pivots connect multiple modules, permitting potentially infinite length. The accuracy of this alignment adds fluidity to its movement. This element may be visible (when the door is folded), built-in, curved, standard or adjustable.
Closing system
The closing systems on Dooor folding doors represent a combination of accuracy, minimalism, elegance and practicality. There are two possible closing systems: with an aluminium profile or without a profile. In both systems, the door is closed by a magnet, which may be integrated into the profile or set into the wall. Use of a special closing system with a latch or with a latch and lock using the European cylinder system (optional) makes for more solid closure.
Product on request. Textile folding doors are can be available in any shape, dimension and upholstery.
Contact us for customizations and for a quote.
4 other products in the same category: