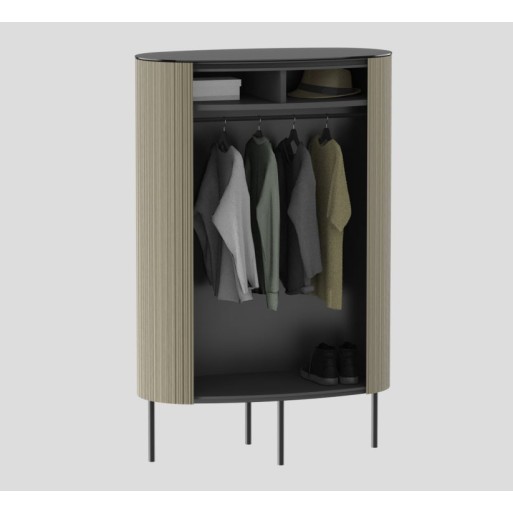  
Wogg79 Wardrobe by Wogg available in 3 different finishings. Discover our best price.
The Wogg79 wardrobe offers a new take on the furnishing tradition of putting a representative piece of furniture in an entrance area. These days it is usually an elegantly crafted massive wood wardrobe or discreet built-in cupboards. Wogg79 performs the same function as a typical foyer closet, but is light and elegant in appearance thanks to its meticulously crafted design. When opened, the door that glides along the edge of the wardrobe does not take up any space at all, making it a welcome addition in narrowcorridors or small foyers. The tambour door uses the WOGG 75 system to seamlessly enclose the wardrobe. The newly patented sliding mechanism guarantees that the aluminium slats door runs quietly and smoothly along its track. Wogg79 is a stand-alone piece that looks great from all angles.
Indicative delivery time:
6/8 business weeks.
Dimensions:
122x67xh188 cm
Discover also other bedroom furniture:
4 other products in the same category: